How Does A Car Wash App Benefit Your Business?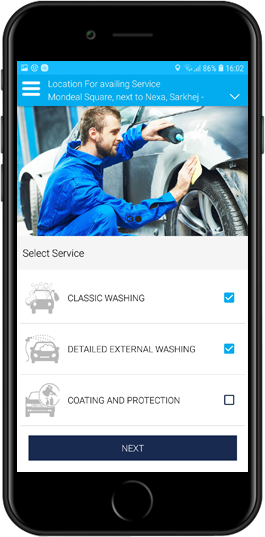 The day and age we live in today demand convenience. Gone are the days when a customer would be content with going the extra mile or bearing inconvenience for the sake of a discount. Today, people are willing to spend more money if it guarantees convenience and swiftness. Lives have become faster and therefore, we don't waste time harping about how we can save a penny, but focus our attention on how we can earn a dollar. This is perhaps the biggest reason why more and more on-demand mobile app-based services are becoming popular. As we all know, the On-Demand Car Wash App development has gained its stride in line with the current market trends.
If you already own a car wash business or are planning to enter this industry, it is natural for you to want to know all that there is to this industry. While apps have become the talk of the town, it is important to understand the relevance of this model with respect to your particular business.
There is no denying that on-demand smartphone-based apps are doing exceedingly well and garnering more and more customers every day, to be able to see if it really has any utility in your own business model or scope of services, you have to outline all the details of your own personal business goals and things that contribute to shaping it.
Example
To understand this better, let us look at an example. So, for instance, you have a car wash business that is doing fairly okay but is based out of a small town. Since there are limited people within the population spectrum of the town, it is almost a certainty that people already are aware of your business and the kind of services that you offer. Now, this might force you to wonder if you really need an app when things are already so streamlined or whether it is a complete and utter waste of effort and time.
Well, this is why our business analysts and market researchers have put together a small list of advantages that an on-demand car was app development may bestow on your business. Let us take a look.
Digitization
Everything toady is available on a digital platform. Whether it is buying groceries or walking your dog, there's almost always a digital platform available to cater to the needs of the customers to this effect. Having your own app is almost a declaration that you have arrived. Yes. Having an app is not just an easy way for customers to find you or utilize your services when needed, but also a certificate of sorts that helps people trust your brand.
Apart from the trust factor, of course, like mentioned earlier, an app allows people to find you easily, to see the scope of services that you offer and the time slots that you are available for them. Now, the app can work both ways. It can allow people to bring their cars into your shop at a pre-appointed hour and get pre-booked services done or the app can also allow your customers to hire a car wash professional from your shop to go to their place and deliver the services that the customer has booked. It is easy and convenient and the customer will not mind shelling out even more money for such a convenience.
No Haggling or Bargaining
This is the biggest advantage that an app offers. See, we have to understand that bargaining or looking for a cheaper deal is human nature. We want to get more value for money, always. This is why there are many arguments regarding the pricing and the discounts after the services have been rendered. This is very inconvenient for business owners because they almost always have to agree to offer a little discount even if it is dangerously close to their break-even pricing because they don't want to leave a bitter taste in the customer's mouth and fear negative publicity.
This entire hullaballoo can be prevented with the help of an on-demand car wash app. When a user books services using an app, the prices are clearly mentioned there. There is no scope of begging for discounts or haggling once the services are rendered. Customers can see the price of the service and book it only if they are okay with it.
Online Payment
As the world is moving towards a cashless economy, it always helps to have mobile apps that enable people to make payments digitally without having to bother with cash payment. The app facilitates digital payments in the most seamless manner so the customer never has to worry about hitting the ATM each time they wish to procure any kind of service. However, the app also gives the customer the choice of whether they wish to make the payment online or wish to give cash.